Friday August 7, 2009 06:57
Twitter Crossing the Chasm in Korea
According to Rankey.com, one of Korean Internet survey services, it estimates that Twitter reached 0.6 million unique visitor per month in Korea. Especially its growth is remarkable from May to July.
Red line indicates me2day.net, a small Korean microblogging startup acquired by Naver in this year. In July, me2day caught up with Twitter's traffic. What happened now?
As you know, Google and Facebook have very low user pools in Korea, also Twitter's has been increased slowly in tech savvy community. As like abroad trends, Korean famous actors, politician and entertainers started to join Twitter.
A Korean famous figure skater, Yuna Kim @yunaaaaa) is representative with over 33,000 followers. There are many famous people as like Chanjin Lee, CEO of Dreamwiz @chanjin, Juha Kim, a famous news anchor and reporter @kimjuha, Junghun Park, a movie star @moviejhp with thousand followers in one day.
Liberal politicians also active in Twitter such as Hoechan Roh @hcroh and Sangjung Sim, @sangjungsim. Hyongo Kim, a chairman of Korean assembly @hyongo is also included.
It means the number of twitter celebrity is increased and general people joined Twitter to follow them. Especially fake celebrity is also popular for example members of TVXQ very famous Korea idol group in Asia area. @herojaejoong (Hero), @TVXQUKnow (U-Know), TVXQMicky (Micky), @dolphinking (Xiah), @MaxChangmin (MAX). Each accounts have over 10,000 followers, but it's known that their accounts are not managed in official.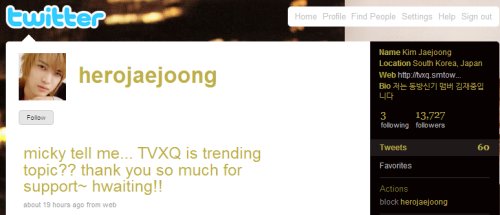 In most case, idol groups in Korea have been controlled by management company as like @BOA_usa or @WGsohee, one of Wondergirls.
It's not good signal in viewpoint of me2day, so they contracted another Korean idol groups as like 2NE1 and G-dragon and starts to broadcast their normal lift via me2day and exposed me2day in search results of Naver.com. So it caught up with Twitter in this month.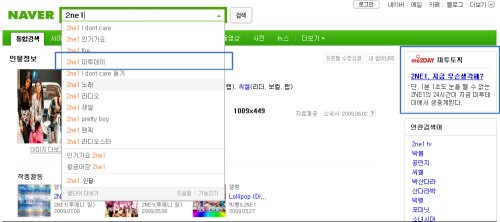 In Korea, Twitter's user is older than me2day's too. I'm not sure whether Twitter will be successful against me2day with strong power of Naver or not. But, it's sure Twitter crossing the chasm.
p.s. My twitter account is @channyun and @koreacrunch.