Monday August 3, 2009 09:39
Google has innovated online geospatial service as like Google Maps with high quality satellite images, street view, oceanic exploration and Google Earth with 3D images and SketchUP in global scale. They were brilliant ideas and many people were impressed.
But, recently Korean web service made another remarkable map services in local scale. Daum and Naver invested many money to build these high quality service too.
Aerial Photography
Daum launched new map features "road view" and "sky view" on January in this year. The image of sky view is converted into high-resolution aerial photography, with the restaurant's roof, driveway and the sea becoming impressively recognizable. Daum is believed to be spending over 20 billion won to develop the new service, collaborating with SamAh Aerial Survey for the aerial photos and Pix Korea for the street-level images.
Recently Daum also released Map API for 3rd party developers to want to adopt it in their services. You can feel very high resolution aerial photos too.
Panorama Photo
Naver also released panorama photo service for famous spots in Korea. It's similar with Bird-eye of Microsoft Virtual Earth, but it's possible to rotate 360 degrees for a look around.
Demo: Seoul N Tower, Mt. Halla
Indoor photography
Daum also released some of demonstration for indoor panorama view in specific building. Now you can see a campus of Sejong University.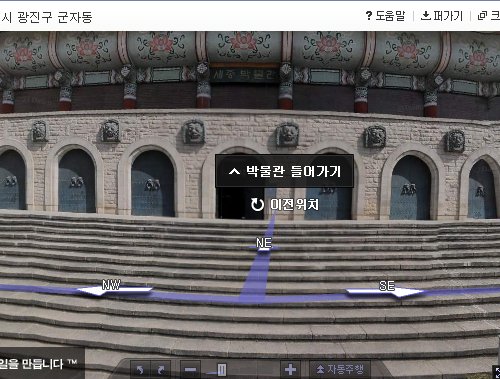 If it is adopted in famous tour spot or educational resources in museum, it's very excellent for people although it's local based endeavor of online mapping service.